x24 Sleep Now™ Fast-Acting Melatonin Diffuser - Special Multi-Pack
Regular price
$189.99 USD
Regular price
$0.00 USD
Sale price
$189.99 USD
Unit price
per
Sale
Sold out
"Imagine a night free of stress and anxiety — only sound sleep!"
Backed By 10,000+ Five-Star Reviews
🛏️ Sleep Now™ is an all-natural personal aromatherapy diffuser. Inhale 5-10+ times before bedtime or throughout the night. Feel calmer almost instantly. Quickly and naturally fall into a deep and restful sleep with its science-backed ingredients.
Get 400+ inhalations or around one month with each disposable diffuser when using the recommended amount.
Stock up and save big with our BUY 2 GET 1 FREE and BUY 3 GET 3 FREE offers. 
😴 Fall asleep faster and get enough deep refreshing sleep — It contains your own body's natural sleep ingredient or Melatonin—science has known for over 100 years it's the primary natural ingredient for quickly falling into the deepest form of restful sleep.
In addition, Lavender, Chamomile, and L-Theanine calm your nerves, letting you drift off with ease while also improving your sleep quality. Grape extract makes it taste delicious! 
🌳 Work naturally with your body — Wake up feeling refreshed without grogginess with a non-addictive, drug-free, and safe plant-based formula. It contains only natural ingredients: Melatonin, Lavender, Chamomile, L-Theanine, and Grape Extract.
🕒 Feel effects immediately — Unlike oral tablets or other sleep aids that can take hours to take effect fully, Sleep Now™ is safely inhaled, and the calming effects are felt right away. No more waiting! You can use Sleep Now™ throughout the night because of its extremely fast-acting effects.
🔬 Backed by science — Each diffuser contains 50mg of Melatonin, equaling around 1-2mg per dose or 5-10 inhalations (when compared to tablets, it's roughly equivalent to 3-5mg in oral Melatonin pills or the recommended dose for Melatonin tablets).
The diffuser has a greater effect because of its much higher absorption rate and bioavailability, or how fast and how much Melatonin is absorbed into your bloodstream. Tablets or pills must go through your digestive system, and only around 25% of a tablet gets dissolved into your body or bloodstream due to the digestive system's low absorption rate and bioavailability.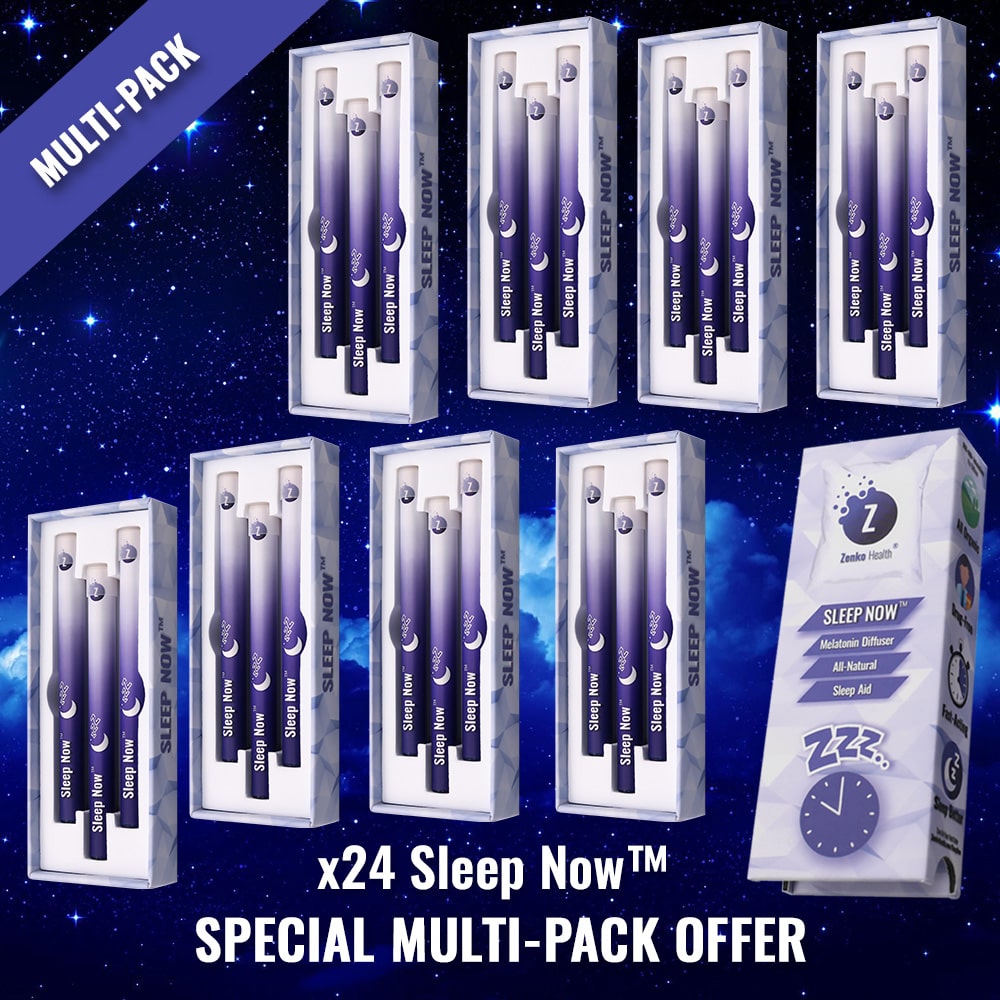 FREQUENTLY ASKED QUESTIONS
Absolutely! Sleep Now™ is a personal aromatherapy diffuser. It uses all-natural diffuser technology free from synthetic ingredients. Safely inhale natural Melatonin straight into your bloodstream, experiencing the age-old benefits of aromatherapy, a practice globally accepted.
We organically harvest Melatonin and other active ingredients from plant extracts. All steps, from harvest to final processing, are vegan-friendly and all-natural. The entire process is undertaken in an award-winning production facility renowned for rigorous safety standards.
What ingredients are in it?
It contains a unique blend of Melatonin, Lavender, Chamomile, L-Theanine, and Grape Extract.
Sleep Now's ingredients are all-natural, non-addictive, and drug-free.
For over 100 years, science has known Melatonin to be the human body's own natural ingredient for quickly falling into a great deep and restful sleep. Our Melatonin is sourced from plant extracts following strict safety regulations.
Lavender, Chamomile, and L-Theanine relieve stress and anxiety while improving sleep quality. In addition, the grape extract fuels its fantastically sweet and enjoyable taste.
Zenko Health® aims to deliver your package within 3-5 business days from our own United States warehouse located in Phoenix, Arizona.
We also ship internationally to anywhere around the world! So, for example, we regularly ship outside the US to Canada and a few other selected countries like Australia.
We love our international customers very much! However, delivery is a little longer and usually takes around 7-12 days.
We do charge a small shipping cost for US customers and a flat rate fee for International customers. The fee changes slightly based on the country, but it only covers what we must pay our shipping company.
1. Remove the rubber cap.
2. Inhale for 1-2 seconds through your mouth,
like sucking on a straw, then exhale out of your nose.
3. Repeat 5-10+ times and use 5-10 mins before bedtime.
Melatonin will be absorbed immediately into your body, creating a quick effect.
It depends on how often you use it.
Each diffuser has a life of around one month.
That is if used every night, with the recommended 5-10+ inhalations, and the diffuser has a capacity of around 400 inhalations.
We have special BUY 2 GET 1 FREE and BUY 3 GET 3 FREE offers at the moment. So when buying three, you can get three free, thus getting them for $10 each.
Each diffuser can last between 30+ nights when used every night. So the cost per use can be as low as $0.3 per night, depending on how aggressively you use it.
How much Melatonin per dose?
Each diffuser contains 50mg of Melatonin. So, with around 400 inhalations per diffuser. It's around 0.125mg per inhalation.
However, keep in mind only around 25% gets absorbed with oral tablets as it has to go through your digestive system. Our diffuser is a much more efficient delivery mechanism, and a lot more is absorbed and quicker. So, in turn, a lot less is needed.
We recommend 5-10 inhalations per night. However, you're free to have more than 10 inhalations per night and find your sweet spot.
Roughly speaking, and for the sole job of comparison, 5-10 inhalations are equivalent to around 3-5mg in oral Melatonin tablets, in line with the recommended dose for oral Melatonin tablets.
Why take Melatonin this way?
Oral medication must pass through our digestive system and metabolism. It's a well known ineffective way to get compounds into the human body. With oral medication, less than 25% actually makes it into your body and can take 1-2 hours to fully take effect.
Sleep Now™ diffuses Melatonin directly into your bloodstream without going through your digestive system. It allows you to control dosing better and feel the effects immediately.
For over 100 years, science has known Melatonin controls our circadian rhythm and regulates sleep timing or our sleep/wake cycle; when we go to sleep and wake up.
It's proven science, and Melatonin is released every night in every one of us.
Melatonin is the primary natural ingredient that pushes us into the most restful form of deep sleep. It can be interrupted by light, indoor environments, travel, poor schedule, anxiety and stress.
Many don't produce enough Melatonin, causing sleep problems. Studies show that Melatonin can lengthen total sleep time, shorten the time it takes to fall asleep and enhance sleep quality.
Sleep Now™ diffuses Melatonin directly into our body without going through our digestive system, helping us get into the deepest form of restful sleep.
Sleep Now™ doesn't contain any harmful chemicals. Nevertheless, this product is not recommended for people under the age of 18, pregnant woman, or those sensitive to listed ingredients.
OUR PROMISE
Zenko Health® always pledges to stay true to its values and share your strong belief and enthusiasm for the power of all-natural products.
Our mindset is we'll be around for many years to come, proudly serving you, our loyal customers, every day, helping you live a healthier and happier life.
OUR GUARANTEE
If you don't have a positive experience for any reason, we will do whatever it takes to make sure you are 100% satisfied with your purchase.
We have 24/7/365 Email Support. Please contact us at support@zenkohealth.com if you need assistance.