Boost Now™ Caffeine + Vitiman B-12 Energy Diffuser
Regular price
Sale price
$19.95 USD
Unit price
per
Sale
Sold out
"Imagine Energy and Focus
On-Demand - Crash-Free, Anytime, Anywhere"
🔋🔌 Power through your day with Boost Now™, your fast-acting, all-natural energy solution. Our personal aromatherapy diffuser is 100% plant-based, nicotine-free, and completely free of synthetic additives and stimulants.
When feeling worn down, take 5-10 inhalations, as easy as gently sucking on a straw. Energize your body, boost your mood, and sharpen your focus in minutes, any time, and anywhere.
Based on your usage, a single Boost Now™ diffuser provides over 400 inhalations, powering your productivity for 2-4 weeks.
Why not stock up and enjoy significant savings? Our BUY 2 GET 1 FREE and BUY 3 GET 3 FREE offers are hard to resist.
💡 Enhance Focus, Boost Productivity, and Elevate Performance — Boost Now™ is rich in natural caffeine, a stimulant famous for boosting energy, focus, and performance.
Experience the combo of natural caffeine and L-Theanine. Science proves it boosts caffeine's effects while ensuring calm and relaxed alertness, cutting side effects like jitteriness, headaches, and caffeine crashes.
Boost Now
Coffee
Drinks
Energy
Drinks
Energy
Capsules
🌳 Energize Naturally with Boost Now™ — We use caffeine organically harvested from plant extracts, not the synthetic kind found in energy drinks. Blended with vegan-friendly Vitamin B12, your body's natural fuel essential for restoring energy levels and mental clarity, alongside Guarana, celebrated for reducing fatigue and sharpening focus.
🕒 Feel the Boost Instantly — Boost Now™ doesn't keep you waiting up to 30 minutes like energy drinks or coffee. The energy-boosting effects are immediately felt upon safe inhalation, bypassing the digestive system.
⚡ Tailor your Energy Boost — You decide how much or how little Boost Now™ you need. Don't get tied to a full cup of coffee or a can of an energy drink. Experience convenience and portability on your terms anywhere you go.
🍋 Love the Taste, Every Time — Through extensive testing, we've landed on the universally beloved flavor of lemon extract. It's a sweet, uplifting, and refreshing taste, unlike the dividing flavor of coffee.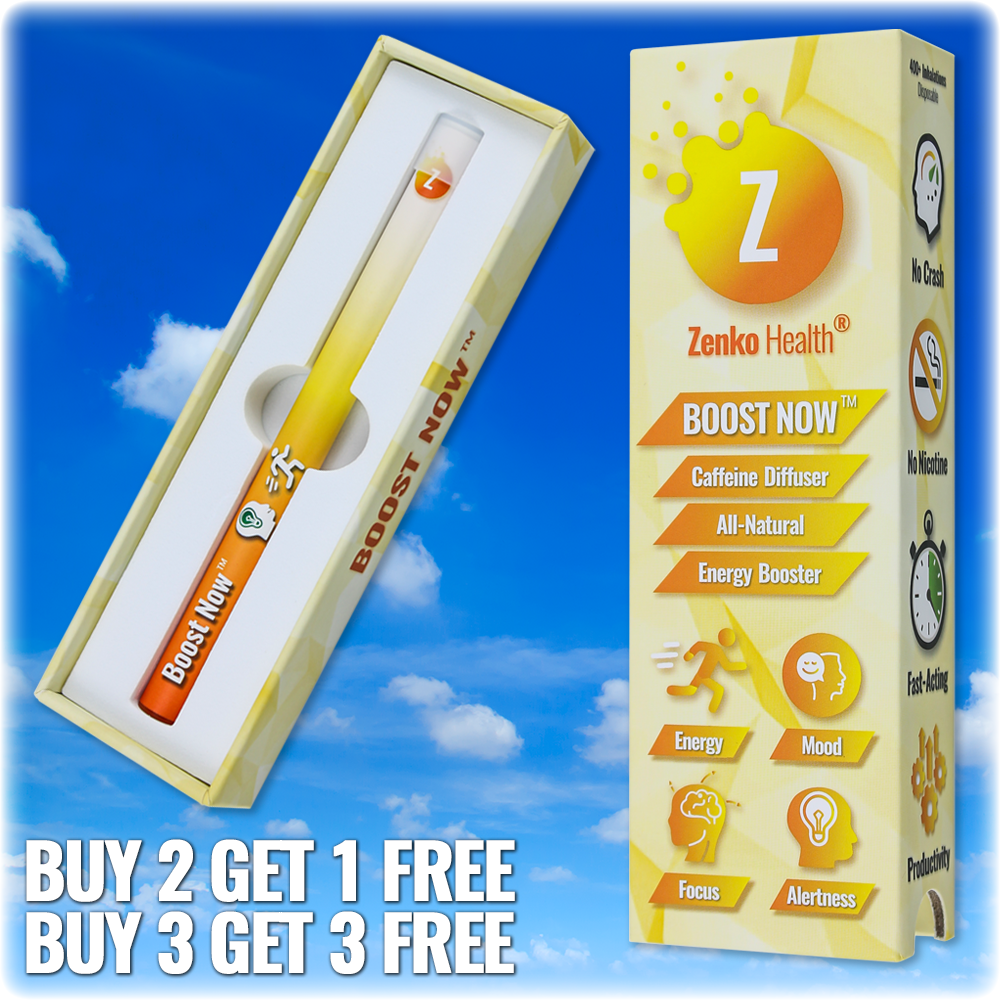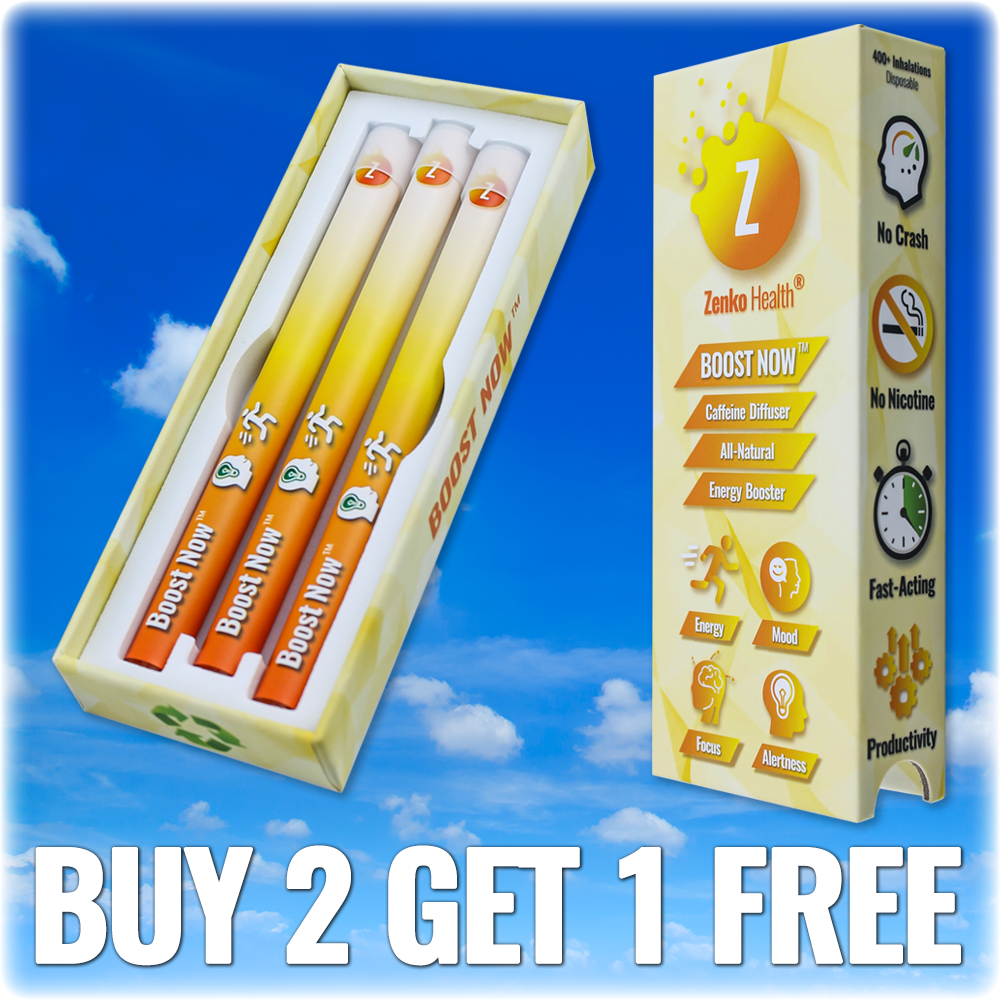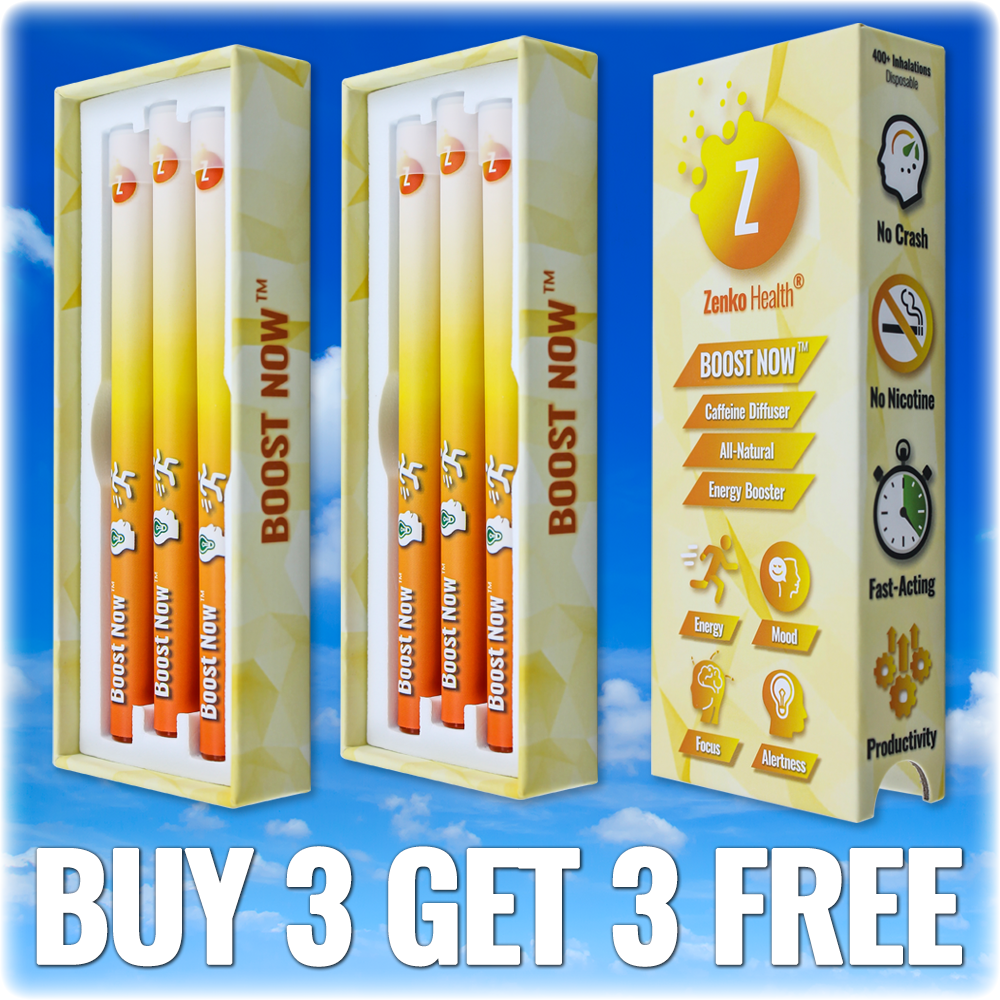 FREQUENTLY ASKED QUESTIONS
Absolutely! Boost Now™ is a personal aromatherapy diffuser. It uses all-natural diffuser technology free from synthetic ingredients or stimulants. Safely inhale natural caffeine straight into your bloodstream, reaping the benefits of aromatherapy, a practice globally accepted.
We naturally and organically harvest the caffeine from Guarana plant extracts. Other active ingredients come from vegan-friendly natural sources. They are processed in an award-winning production facility known for their strict safety standards.
What ingredients are in it?
✔ Natural Caffeine:
Elevate focus and physical performance, and boost fat burning. Unlike synthetic caffeine in sugary and additive-filled energy drinks, it is 100% organically harvested, providing natural energy.
✔ Vitamin B-12:
Tap into the power of Vitamin B-12, essential for converting food into glucose or your body's fuel. It not only energizes you but also supports your overall health.
✔ L-Theanine:
L-Theanine combined with caffeine boosts its effects while reducing the jitters, headaches, and the "crash" often associated with coffee and energy drinks.
✔ Guarana:
Experience the natural energy and memory-enhancing benefits of Guarana. It's a powerful plant extract renowned for reducing fatigue and supporting learning.
✔ Lemon Extract:
Enjoy the refreshing and universally adored taste of lemon extract with every use.
Zenko Health® ships from our USA warehouse in Phoenix, Arizona, and aims to deliver within 3-5 business days to our US customers.
We also deliver worldwide, with approximately 7-12 days delivery times.
A small shipping fee applies to US orders, and international orders incur a flat rate fee. The fee matches what we must pay our shipping company.
1. Start by pulling off the rubber cap.
2. Inhale gently for 1-2 seconds, like sucking on a straw, followed by a slow exhale through your nose.

3. Repeat this 5-10+ times, as needed, anytime and anywhere.
The lifespan of each Boost Now™ diffuser varies based on your usage.
Typically, one diffuser, with about 400 inhalations, can last between 2-4 weeks.
You can make significant savings with our fantastic offers!
How safe is the caffeine content?
Caffeine in Boost Now™ is safe. Unlike synthetic stimulants that can carry risks, studies show that average amounts of caffeine don't cause harmful side effects.
Caffeine intake through inhalation is more efficient, allowing for the same energy boost from less caffeine.
According to users, Boost Now™, with less caffeine than a coffee or energy drink, delivers the same energy level without the crash afterward. We've thoroughly tested and fine-tuned the amount of caffeine in Boost Now™ to achieve this optimal effect. The exact quantity of caffeine used is part of our trade secret, which helps keep our unique energy blend one of a kind.
Why inhale natural caffeine?
Drinking caffeine in energy drinks or coffee means it has to pass through your digestive system. This process not only takes time but reduces its potency or power.
With Boost Now™, inhale natural caffeine and other active ingredients directly into your bloodstream.
Enjoy fast effects, convenience, and portability to use wherever you are. Use as much or as little as required. Control your dosage easily, unlike energy drinks or coffee.
Boost Now™ doesn't contain any harmful chemicals. Nevertheless, this product is not recommended for people under 18, pregnant women, or those sensitive to the listed ingredients.
OUR PROMISE
Zenko Health® always pledges to stay true to its values and share your strong belief and enthusiasm for the power of all-natural products.
Our mindset is we'll be around for many years to come, proudly serving you, our loyal customers, every day, helping you live a healthier and happier life.
OUR GUARANTEE
If you don't have a positive experience for any reason, we will do whatever it takes to make sure you are 100% satisfied with your purchase.
We have 24/7/365 Email Support. Please contact us at support@zenkohealth.com if you need assistance.